6 Horas de Barcelona 2023
Circuit of Barcelona-Catalunya: 4,675 km
The 6 Hours of Barcelona organised by V de V Sports is the second race of the 2023 season!
This 6-hour endurance race reserved for GT, Touring and Sport Prototypes, from 1947 to 1990 will be held during the "Espíritu de Montjuïc" event, which will feature historic cars.
This event would be made up of: one hour of test session (Saturday morning), one hour of qualifying practice (Saturday afternoon) and a 6-hour race (Sunday afternoon).
This race will be open to GT and Touring cars until 1990, Sport Prototypes until 1976 and Sports 2000 until 1986. Slick tyres will not be accepted.
The regulation will be the same as the 2 Tours d'Horloge, same cars accepted, same tyres regulation and even the same number of drivers allowed on the car (2, 3 or 4).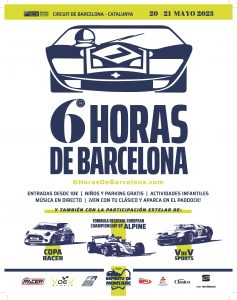 Useful information
Follow the C-17 road (exit Montmeló), or the AP-7 highway (exits 13, 14 and 15. The exits 14 and 15 connect to the C-17 road).
Barcelona Airport (50 km)
Barcelone Center (32 km)
Barcelona Coast (18 km)
Hotels
HOTEL AUGUSTA VALLES****
Distance du circuit : 4km
AP-7, Km 12 5, 08410, Barcelona, Espagne
+34 938 456 050
www.hotelaugustavalles.com/fr/
reservas@hotelaugustavalles.com
HOTEL GRANOLLERS***
Distance du circuit : 4,9km
Av Francesc Macià, 300 08401 Granollers, Espagne
+34 93 879 51 00
www.hotelgranollers.com/
h.granollers@hotelgranollers.com
HOTEL CIUTAT DE GRANOLLERS
Distance du circuit : 7,5km
Carrer Turo d'en Bruguet, 2, 08402 Granollers, Espagne
+34 938 796 220
www.ciutathotels.com
granollers@ciutathotels.com