Les 2 Tours d'Horloge 2021
Circuit Paul Ricard : Tracé 1CV2 - 5,822km with chicane
The only 24-hour race exclusively dedicated to historic racing cars
Created in 1992 by Eric Van de Vyver on the Paul Ricard circuit, "Les 2 Tours d'Horloge" is the only 24-hour endurance race for historic racing cars.
Les 2 Tours d'Horloge took place on the circuit in Provence for seven years before moving to the Ricardo Tormo track near Valencia in Spain in 1999 followed by the Nevers Magny-Cours F1 layout from 2001 to 2007. Finally, it returned to the Paul Ricard circuit for its last two stagings in 2012 and 2014.
In keeping with the mixture that is such a prominent feature of major endurance races, gentlemen drivers and professionals shared the wheel of GTs, Touring cars as well as sports prototypes.
Seven years after its disappearance from the sporting calendar, Les 2 Tours d'Horloge will be back on the circuit on which it was held for the last time and on which it has been revived to write a new chapter in its history on 5-6-7 November 2021.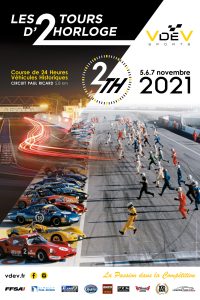 Circuit details
Circuit Paul Ricard, 83330 Le Castellet
www.circuitpaulricard.com
+33 (0)4 94 983 66
GPS : 43°15' 07″ N – 5°47' 17″ E
Useful information
Aéroport International du Castellet Marseille Airport (66 km)
Toulon Airport (55 km)
Gare SNCF Bandol (20 km)
Gare SNCF Toulon (30 km)