The 6 Hours of Paul Ricard organised by V de V Sports is the first race of the 2023 season!
This 6-hour endurance race reserved for GT, Touring and Sport Prototypes, from 1947 to 1990 will be held during the KENNOL Grand Prix de France Historique, which will feature former Formula 1 cars, especially those from the early 2000s.
This event would be made up of: one hour of test session (Friday morning), one hour of qualifying and night practice (Friday at the end of the day) and a 6-hour race (Saturday 18h-00h).
This race will be open to GT and Touring cars until 1990, Sport Prototypes until 1976 and Sports 2000 until 1986. Slick tyres will not be accepted.
The regulation will be the same as the 2 Tours d'Horloge, same cars accepted, same tyres regulation and even the same number of drivers allowed on the car (2, 3 or 4).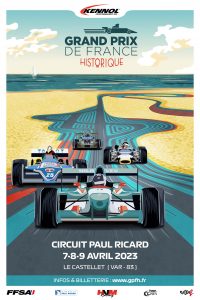 Circuit details
Circuit Paul Ricard, 83330 Le Castellet
www.circuitpaulricard.com
+33 (0)4 94 983 66
GPS : 43°15' 07″ N – 5°47' 17″ E
Useful information
Aéroport International du Castellet Marseille Airport (66 km)
Toulon Airport (55 km)
Gare SNCF Bandol (20 km)
Gare SNCF Toulon (30 km)